Join one of the most profitable affiliate programs in the business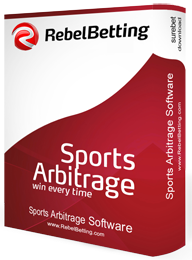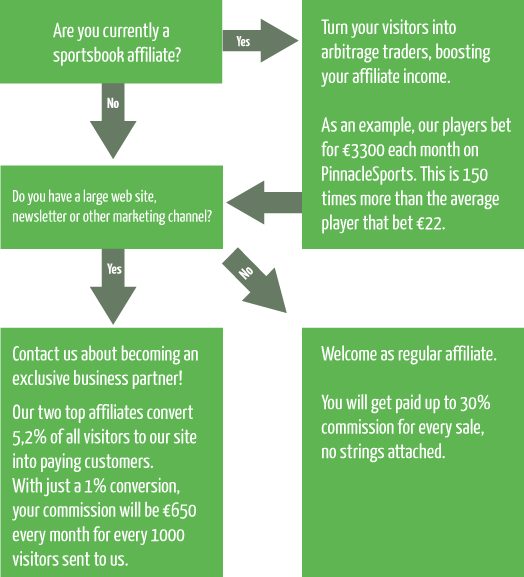 Commission calculation: €65 per sale of a monthly subscription the first 3 months, then up to 50% lifetime commission.
Source for PinnacleSport stats: RebelBetting affiliate statistics PinnacleSports 2011 – aug 2013
Source for average player revenue: WilliamHill annual report 2012.
Are you the new RebelBetting partner?
Clarobet is the Swedish software company behind the world leading and award-winning RebelBetting service that turns sports betting into an investment. The company was founded in 2008 and is showing excellent growth with profit margins exceeding 50% and has over 50 000 users from more than 100 countries.
Now we plan to add new business partners that want to share our success and take part in our expansion strategy. We are looking for companies or individuals that can help us market and sell the world's leading sports arbitrage software RebelBetting to new customers. The selected partner will have an exciting opportunity to grow the RebelBetting service and at the same time make a healthy profit. One current partner reached revenues of 300.000 EUR in the first year.
What is Sports Arbitrage Trading?
You can effectively turn gambling into an investment by using sports arbitrage trading. The secret is to bet on all outcomes of a game, betting two different bookmakers. If the odds are sufficiently high, you will be guaranteed a profit no matter who wins the game.
63% commission on all sales the first three months, then up to 50% lifetime commission
Here's a simple example of what you can expect:
10 Sales (to keep the example simple, you will sell for much more)
€129 Monthly Subscription (this is our most common subscription by far)
63% Commission first 3 months (this means an amazing 50% gross commission)
Which leads to…
€65 Commission per Customer and Month
€650 Total Commission for every 10 sales
Now just imagine if you have 50 sales instead of 10. Every month.
For the right partner we can offer the opportunity to market a strong brand and a very successful product. Our main benefits are:

We have the world's leading product
Has been awarded "most popular sports arbitrage service" by the SportsArbitrageGuide. Very happy customers; 78% would recommend RebelBetting to a friend. RebelBetting users regularly make a profit of 10-20% every month.

Strong numbers
Average sale value is 143 EUR. You will receive a flat 63% commission of this as sales commission the first three months. After that, up to 50%. Our top affiliates have a conversion rate of 5.2% per visitor to our site. This means for every 1000 visitors they send to our site, 52 end up subscribing. RebelBetting sales has more than doubled three years in a row.

Boost your existing sports book affiliate program
If you already have affiliates on the sports books, we help you turn them into arbitrage traders, boosting your affiliate profits many times over. Arbitrage traders are the most profitable customers you as an affiliate can have, because they always bet their maximum allowed stake.
To give you an idea, our users at PinnacleSports turnover on average €3300 every month. That's 150 times more than the average player that bet €22 each month (according to William Hill 2012 annual report).
Just imagine what will happen to your existing sports book commissions if your players would turn into sports arbitrage traders. Also, wouldn't it be nice to promote a product that actually helps your customers profit, instead of sending them to a bookmaker or a casino that just rob them of their money? Join the generous RebelBetting affiliate program start earning together with your customers!

We handle all support and logistics
Clarobet runs all technology, maintenance and support.
Software already translated to 10 languages.
You only need to focus on marketing and selling the subscriptions.
Testimonials
"As the only bookie to welcome arbitrage action and not limit winning players, we've been working successfully with RebelBetting since 2009. Many arbitrage products come and go so the established nature of their business and the positive feedback we get from players, is testament to just how good their product is."
– PinnacleSports.com
"This service is far and away superior to any other arbing service that I have seen."
– Sgt Rich, BettingSystemTruths
"There were times that I couldn't believe the arbs shown. The mass and the quality of arbs are just amazing. Pinnacle and the Asians are covered perfectly."
– Nikos, ArbUsers.com
"Everything I have seen RebelBetting do so far has demonstrated exemplary behaviour and professionalism. [...] I personally have come to trust the operators of RebelBetting."
– Shane Greenup, SportsArbitrageGuide
"After 3 months I've made 156% profit. absolutely incredible. Thank you so much!"
– Sören Hertzsch, Germany
"As a total newbie in the arbing world I was sceptical of the amounts of money that can be made consistently. The key word is consistent as making 10% per month is an incredible feat compared to most investment strategies that would count 20% PA as a large gain, all of this with no risk, seems too good to be true. Well it isn't!
I am 3 weeks in and have made €552 with only about €50 of that being bonuses."
– Paul, Australia
"In the first 2 weeks as total newbie, I earned a 10% profit starting with a bankroll of 1,400! And last Saturday I made about 100 EUR, in only one day. 100 Euro! I have never never never seen a software so powerful!"
– Francesco S, Italy
What we are looking for
A dedicated marketing and sales partner with expertise in e-products. Knowledge of the sport betting market is a bonus but not a requirement. We are expecting sales of at least 200 subscriptions per month and yearly minimum revenues of 300 000 EUR after a startup period of 5 months. Our competitive revenue share structure is completely based on sales performance.
Special time limited affiliate deal
We have a special deal for a limited time that gives you a much higher commission than our regular affiliate program. 63% commission the first three months (this means €65 paid to you for every monthly subscription sale). Don't wait, this deal will only run for a limited time!
Sign up now!
Please contact me now through the form below or LinkedIn and we can talk about how to begin a profitable partnership.
Welcome to RebelBetting!
Simon Renström
CEO Clarobet AB